...and I pee standing up (you thought I was gonna go with the I'm Forty line there, didn't you? Well, I gotcha then). What does this have to do with anything? Well, I'll get you there, but, first, answer this question: Have you ever laughed at Engrish? If you laughed at the picture on the left (either previously, just now or both), then you have enjoyed Engrish, which is basically incoherent English from our friends in Japan (two references to Japan in two days!). Apparently direct translations to English from Asian languages don't work out and, often, result in hilarious outcomes. For instance, take this picture from Arrested Development where the Chinese subtitles where translated directly to English.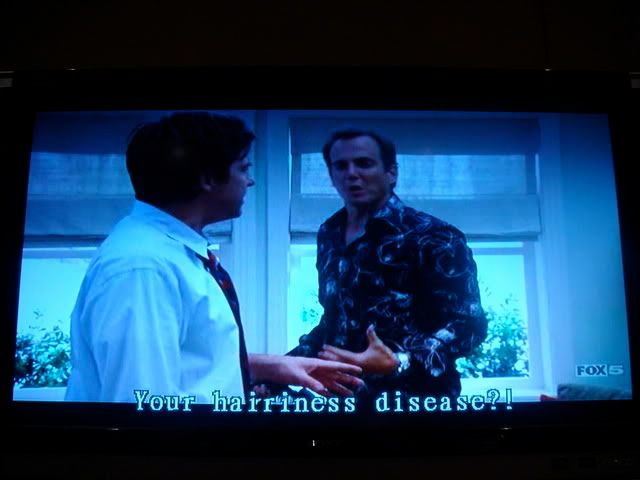 The actual line spoken there? "What is wrong with you?" That's awesomeness. What does all this have to do with standing up while you relieve yourself? I'm getting there. Anyway, beyond Engrish, Japan is known for churning out some pretty sweet video game stuff. Of course, porting games directly from Japanese to English can have some pretty hilarious results as well. If you've played games before, you are probably familiar with the phrase "All Your Base Are Belong To Us."



That's an actual video game (sadly, the voices were added for the video). Still failing to see the connection to #1 here? Well, let me introduce a product called Urinelle to you. I won't tell you what the product does (but if you can't figure it out based on what I've been talking about this entire post, then you're struggling at life), I'll just let this video do the talking. Oh, and while you're watching this, listen to the chorus.



That's right, the chorus of that advertisement is "All your base are belong to us, all you base belong to us, now." I'm not sure what that means. On a side note, I once had a chick come into the dudes bathroom and pee next to me at San Antonio's version of Mardi Gras (SFW). She was way hot, but definitely didn't have one of these and ended up peeing all over herself which was embarrassing for everyone there. In any case, I'm not sure that I would recommend these things for anyone, but hey, I'm a man, and I pee standing up.

See I tied it all together for you. Besides, where else will you get to see a chick pee while standing and a video about a video game all in one day.